"AspenGrove exceeded our expectations of the home-building process. As happy new homeowners, we would recommend their services in a heartbeat."
The home-building industry tends to have a negative and shady reputation, so we went into our new project cautiously. But AspenGrove Development's transparent process quickly turned this notion on its head!
With their cost-plus model, we were abreast of every single receipt and where our hard-earned money was going. The level of transparency is next level. Not only that, but it meant that our house was built within our target budget. As millennials carving out a future for ourselves, we appreciated this. What really surprised us was how quickly we were able to get possession of our new home! It's almost unheard of that you move in before schedule, but AspenGrove accomplished this with their extremely organized timeline and lineup of trades.
What really blew us away was their level of service. It's not like anything you would ever get from a track home builder. The team at AspenGrove truly puts your needs front and centre as a client. We are now living in our dream home because AspenGrove is shaking up the home-building industry.
~ Amanda & Matt
IN THE PRESS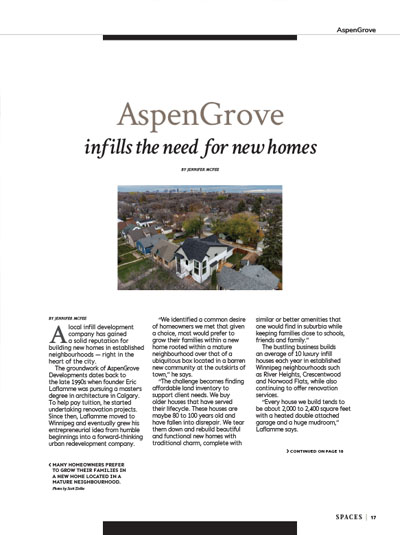 AspenGrove Developments is happy to be included in the Spaces Winter 2021 edition. You can view the magazine article by clicking the PDF link below.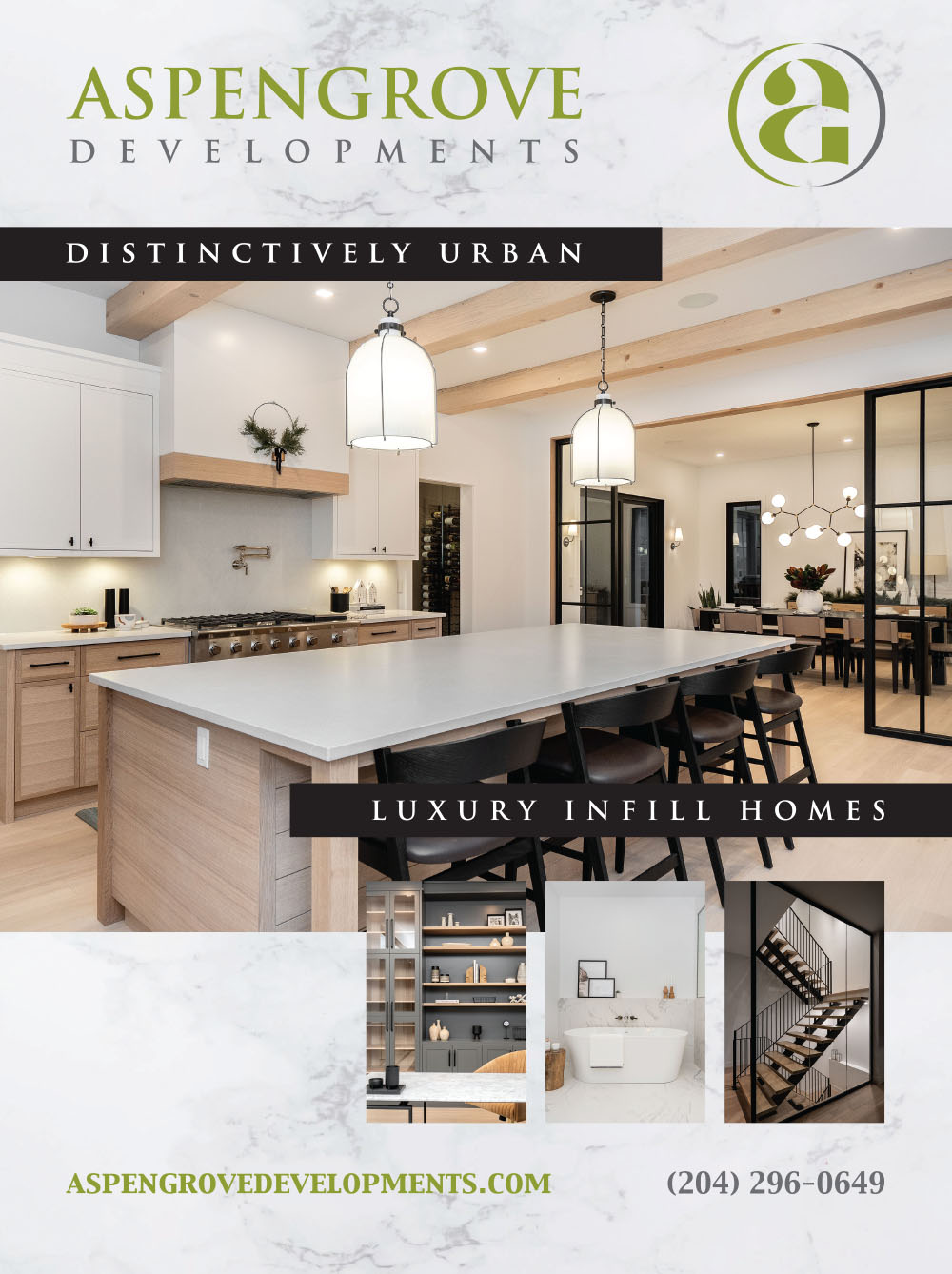 AspenGrove Developments is excited to have a feature in the summer 2021 edition of Style Manitoba. You can view the entire magazine and our article on their website.
THOUGHTFULLY CREATED LUXURY URBAN HOMES
AspenGrove Developments is a small "boutique", vertically-integrated, residential design-builder. We have made our home in the beautiful City of Winnipeg, Manitoba yet our projects and design influence can be experienced throughout several Canadian Provinces and a few American States.
Our Team's work and skills have been applied to both small and large scale commercial construction and development projects, but our expertise and passion is in the repair, renovation, and alteration projects focused on residential contracting.
As an innovative organization, we offer full design, interior design, construction & project management, post occupancy care, and real estate services – allowing our clients to maintain an exceptional level of service throughout the entire process.
All homes are built step by step, from the ground up, according to a logical sequence. At times, there will be a flurry of activity around your home, and other times there will be a diminished level of activity. At all times during construction, the progress of your home will be scheduled and monitored by our qualified staff of builders.
We can tell you we care, but we would rather show you! Construction is inherently messy, but this is your home, and we know how stressful it can feel living in a construction zone. Beyond that, we want to ensure you're still invited to the neighborhood block parties. This is why exterior and interior project cleanliness and protection is so important to our team.